Are Nummy Tum Tum products human grade?
Yes! Our entire Nummy Tum Tum line is made with human- grade 100% Organic products that do not contain any additives! Feel free to split a can with your pet!
Are Nummy Tum Tum products grain-free?
Yes! All Nummy Tum Tum products are grain-free.
Why is Nummy Tum Tum good for my pet?
Pumpkin and Sweet Potato are high in fiber and Vitamin A, which helps to support healthy digestion. The fiber in Nummy Tum Tum products absorbs moisture and keeps your pet's food moving through their digestive tract- which helps with both diarrhea and constipation! 
Nummy Tum Tum products aid in weight maintenance, are a great, tasty snack to help upset tummies and add additional flavor to hard food!
What's the best way to store Nummy Tum Tum?
We recommend refrigerating any leftover product in an airtight container, such as a plastic container with a lid, and using after three days of opening. Once opened, the product needs to be stored in the fridge and used within three days. If you can't use it that quickly, the best way to preserve it is to put it into an ice cube tray and freeze it! It will be good for up to three months once frozen. Then you can just pop out a cube each time you need it! When you're ready to use it, you can either let it thaw in the fridge, microwave it for a few seconds or feed it to your pet as a frozen treat!
Is Nummy Tum Tum Organic?
Yes! All our Nummy Tum Tum products are organic. We take pride in our sustainable growing practices, and want the very best for our furry-friends! 
How much Nummy Tum Tum should my pet have each day?
Nummy Tum-Tum is an organic pet supplement, not pet food. Your pet should continue eating their current diet. Nummy Tum-Tum supplements this diet by providing additional dietary fiber, vitamins, and nutrients.
See our serving size chart below to determine how much your pet should get each day, and how often you'll likely need to restock!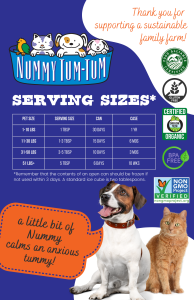 What can I do with Nummy Tum Tum?
Our Instagram page is a great way to get inspiration on how your pet might enjoy Nummy Tum Tum! Here are some other suggestions too: 
Stuff it in a kong toy or other puzzle treat
Bake it into a treat
Freeze straight into molds–it's a great treat for a hot summer day!
Put it on top of dry food
Use on a lick mat